• blog • kefir • kefir receipes • milk kefir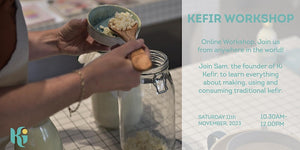 Online kefir workshop, join Sam the founder of Ki Kefir and a friend of Happykombucha's to learn how about making, using and consuming kefir.
For anyone looking to learn more about working with your Milk kefir grains. 
The workshop will cover the process of making kefir (dairy versions only), all the key tips & tricks within the making process and the benefits fermented foods has on your health . There will be ample time to ask Sam all of your kefir questions at the end of the demo. You will also receive recipes to use your kefir in. 
---
Imagine your body as a well-oiled machine, constantly working to maintain balance and harmony. Just like any machine, it needs the right fuel to function at its best. Enter probiotic drinks – the secret elixirs that can supercharge your health and well-being. Today, we'll explore the incredible health benefits of two popular probiotic drinks: kombucha and kefir. Get ready to discover the wonders of these fermented beverages and how they can revolutionise your gut health.   The Gut-Brain Connection: Enhancing Mental Well-being Did you know that the health of your gut can impact your mood and mental well-being? The gut and the...
---
Kombucha is a fermented tea beverage that has gained popularity in recent years due to its potential health benefits
---
• kefir • kombucha • milk kefir • scobies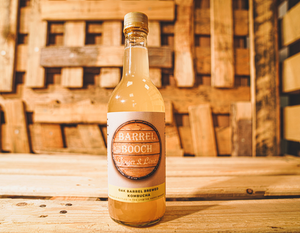 In a world where wellness and sustainability take centre stage, a bubbling revolution is transforming the way we view our daily refreshment. Meet Barrel Booch Kombucha, a captivating fusion of ancient traditions and modern innovation. This article takes you on a journey through the delightful realm of Barrel Booch, exploring its unique brewing process, health benefits, and the exceptional experience it offers to those seeking a taste of wellness in every sip. Brewing Magic: The Unique Artistry of Barrel Booch At the heart of the Barrel Booch revolution lies its distinctive brewing method. Unlike conventional Kombucha, which ferments in glass...
---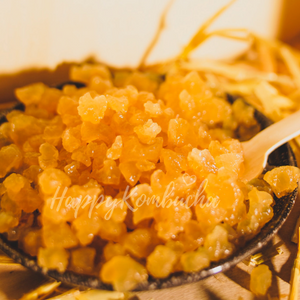 In a world filled with quick fixes and trendy diets, one ancient practice has steadily made its way back into the spotlight - fermented food! Far from being just a culinary trend, fermented foods have been a part of human diets for thousands of years, boasting numerous health benefits and unique flavours. As we embark on a journey to embrace healthier lifestyles, it's time to rediscover the joys of fermented food and its incredible impact on our well-being. A Brief Introduction to Fermentation Fermentation is a natural process that involves the conversion of sugars and carbohydrates into alcohol, acids, or...