---
Second ferment your kefir or kombucha using this glass jar with lid that enables easy monitoring, pouring and drinking. This handy jar/bottle makes second fermenting quicker easier and its also nice and easy to clean and dishwasher safe. 
WHY SECOND FERMENT YOUR KEFIR/KOMBUCHA?
Many home kefir makers second ferment their kefir because it tastes so superior and second fermentation can take away some of the sourness of regular kefir. As well as adding flavour, it also increases certain B vitamins, like folic acid, and makes the calcium and magnesium more bio-available which means that your body can absorb and use it immediately. Put simply, second fermentation kefir is pre-digested and loaded with enzymes.
In Kombucha (and water kefir) you need to second ferment to build up fizz
This jar/bottle can also be used with ginger beer and Turmeric bug.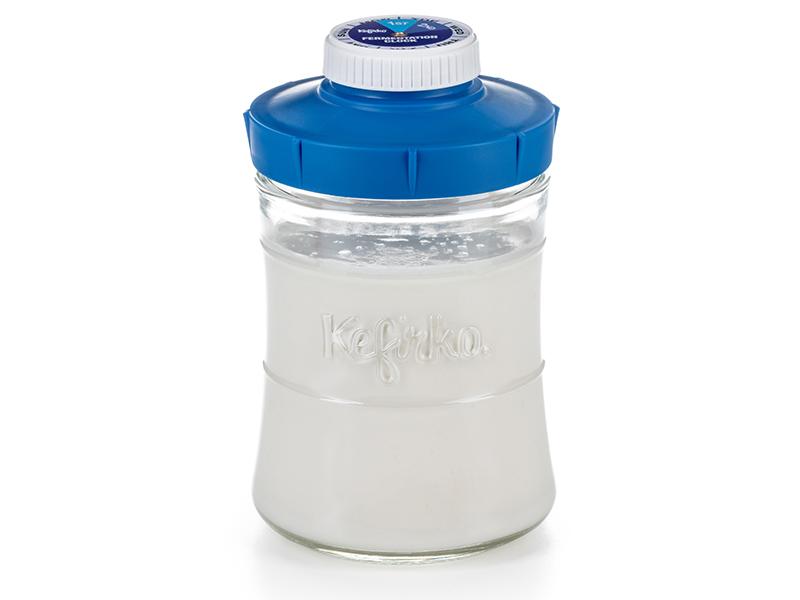 PRODUCT FEATURES:
Drinkable Spout- Open the top cover to pour or drink kefir/kombucha straight from the jar.
Take it with you- Airtight seal enables you to take Kefirko with you on your travels and to never miss out on your daily dose of kefir/kombucha.
Storage- Taking a break from kefir? Store the grains in Kefirko jar covered with lid.
Size- Available with regular (848 ml/28 oz)
Compatible- Use the second fermentation lid with Kefirko glass from Kefirko Kefir Maker or Kefirko Cheese Maker. Can be used with small (0.6 l/20 oz) or big (1.4 l/50 oz) jar.
Durable Materials- Quality glass, food safe and BPA free plastic materials used for the lid.
Wash the bottle and lid before first use. To clean thoroughly, we recommend occasionally removing the silicone rubber attached under the lid and cleaning it with warm soapy water. Attach the lid firmly on the glass jar to prevent spills. When in use always keep the bottle in upright position. While storing the kefir make sure you burp the jar occasionally to prevent bottle explosion.
When you are ready to prepare a fresh batch of kefir or any other fermented drink, first set the start time (the day is divided into quarters with lines marking 6 AM, 12 AM, 6 PM and 12 PM respectively). The clock displays the 24-hour primary fermentation, which takes place at room temperature, and the 24-hour secondary fermentation, which takes place in a refrigerator. In this way, the fermentation clock keeps reminding you when each fermentation batch was started and for how long the fermentation process has been going on. The pour spout lid is the perfect size for your fermentation clock - to keep track of fermenting time. Every product includes one fermentation clock.
---
Share this Product
---
More from this collection