---
Tempeh Culture-Gluten free-Dairy free-vegan 
You will recieve 10g of Tempeh starter plus instructions. 
Tempeh is a traditional Indonesian food made from fermented whole soya beans. Biona Organic plain tempeh has no other added ingredients and is perfect for marinating and using in place of meat. Use in a wide range of dishes such as; stir fries, salads and ramen. Tempeh contains all the essential amino acids, therefore it is an excellent source of protein and fibre, a nutritious addition to any meal.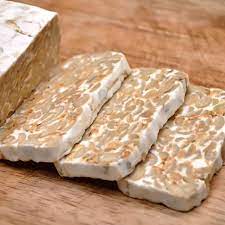 Our tempeh starter culture contains high numbers of active Rhizopus spores and is free of pathogenic bacteria, such as salmonella. Our tempeh starter is made from GMO-free ingredients, is gluten and dairy free, and is suitable for vegetarians and vegans.

We offer tempeh starter of the highest quality. 
It is fairly easy to make your own tempeh. Soybeans are simply soaked overnight, cooked for about 30 minutes and mixed with the tempeh starter. After an incubation time of 36 to 48 hours, tempeh is ready…and fresh! Sometimes it is a tedious task to remove the hulls from the soybeans but luckily you can now purchase de-hulled soybeans so making tempeh should come at an even greater pleasure! 
---
Share this Product
---
More from this collection